Continuos Wave Laser Diodes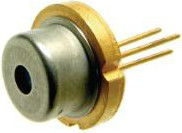 FLC offers the widest wavelength range for laser diodes on the world market from 370nm to 12µm, single mode & multimode broad area, DFB and DBR, fiber Bragg grating stabilized laser diodes. We offer wavelength selection and custom packaging, please, contact us to discuss your requirements.
Search by Tags
LD Collimators & Diffractive Optics
Model
Wavelength
Wavelength Range
Power
Operating Temp.
Package