Multimode Laser Diode Arrays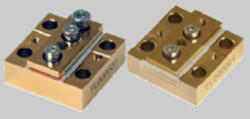 High power laser diode bars with wavelengths between 635nm and 1930nm. Output powers vary from 4W to 250W.
Please contact Frankfurt Laser Company for more details.
For technical information & quotations please » email us
Search by Tags
LD Collimators & Diffractive Optics
Model
Wavelength
Power
Operating Temp.
Package