We in Social Media
Join and connect with us:
18.01.2013
Frankfurt Laser Company - Newsletter 01-2013
Dear Customer,
Welcome to the latest edition of our newsletter, with updates on our products and company news. Over the coming months we will be participating in a range of exhibitions and look forward to seeing you there, read on for further details.
Frankfurt Laser Company
---
Product News
New High Power 1550nm Single Mode Laser Diode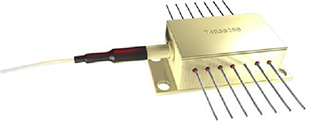 Fiber coupled laser diodes at 1550nm with record breaking 50kHz line width and output power of 100mW with fiber Bragg grating stabilization.
The laser diode comes in a hermetically sealed butterfly housing that incorporates TEC, thermistor, monitor photodiode with single mode and polarization maintaining fiber output available. The fiber is terminated with FC/APC connector. It operates in a wide operating temperature range of -40 to +70°C and is suitable for applications with harsh environments.
Applications:
| | |
| --- | --- |
| » Direct Diode Frequency Doubling | » Low Noise Pumping |
| » Gas Sensing | » Metrology |
| » Interferometry | » Raman Spectroscopy |
| » Laser Seeding | » Remote Sensing |

Custom Superluminescent Diodes in 780-3300nm Wavelength Range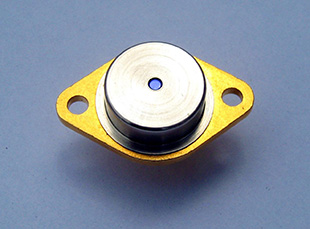 Frankfurt Laser Company offers a new line of Superluminescent diodes in the 780nm-3300nm wavelength range. Products are individually tailored to custom application and are manufactured on demand, with the peak wavelength being available at next to every wavelength within the range. In addition to this we are able to offer power of up to 5mW and the possibility for wavelength tuning.
Superluminescent diodes are supplied in industry standard cooled (TO-3 and butterfly) and uncooled (TO-56, SOT-148, coaxial) free space and fiber-coupled packages.
Applications:
| | |
| --- | --- |
| » Fiber gyroscopes | » Optical sensing |
| » Optical coherence tomography | » Speckle-free illumination |
| » Optical metrology | » Medical diagnostic equipment |
External Cavity Short Pulse Laser Diodes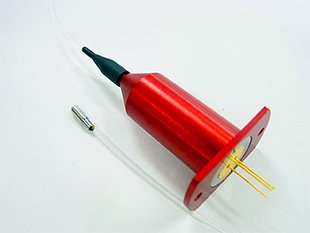 Frankfurt Laser Company is pleased to announce two new pulsed laser diodes to its product range. The external cavity short pulse laser diodes are made by Shimadzu and are exclusively distributed by Frankfurt Laser Company. The lasers are available at either 1030 or 1064nm and have output pulse power of more than 100mW, with very low spectral bandwidth of 100pm. The lasers come fiber coupled and are available in a coaxial package.

Mid-IR LED's and Photodiodes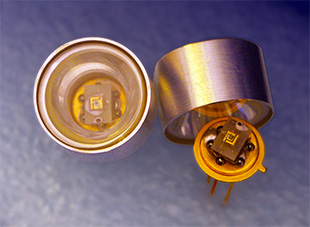 Frankfurt Laser Company is pleased to announce a new line up of LED's and accompanying Photodiodes to its range. Both LED'S and PD's operate in the in the Mid Infrared range from 1.58µm to 4.45µm.
Due to advances in measuring technology these LED's are ideally suited for use in gas measurement; this can be measuring the concentration of a particular gas or the existence of a particular gas type within air. Such sensors offer a reliable, instant and non-contact method of gas detection. The individual LED's and Photodiodes are a cost effective and are small enough to be integrated into the smallest of packages. Operating over a wide temperature range allows them to be used in a variety of environments.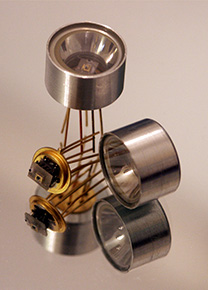 LED's can be either used in Quasi CW or pulsed mode operation to obtain either a high average power output or a high peak power output.
As an addition to the package options, which are TO18 and TO5 can both LED's and PD's can be equipped with a parabolic reflector to either decrease beam divergence or increase the light gathering power respectively.
With a complete set of drive electronics available this allows an easy set-up solution to enable quick and easy experimentation.
Applications:
| | |
| --- | --- |
| » Medical diagnostics | » Methane Sensors |
| » Ecological monitoring | » Water Sensors |
| » CO2 Sensors | |
---
Exhibition News
Over the coming months Frankfurt Laser Company will be present at the following exhibitions and we would be delighted to see you there too.
South Hall, Booth 8500
2-3 Feb. 2013
Moscone Center
San Francisco, CA, USA
South Hall, Booth 500
4-7 Feb. 2013
Moscone Center
San Francisco, CA, USA
« back «

An den 30 Morgen 13
D-61381 Friedrichsdorf
Germany

E sales@frlaserco.com
T +49 (0) 6172 27978-0
F +49 (0) 6172 27978-10

Legal
· All rights reserved ·
Attribution, Credits and Copyrights
generated by
MATRIX-CMS