We in Social Media
Join and connect with us:
15.04.2010
Frankfurt Laser Company - Newsletter 01/10
Dear Customer,
We would like to thank all of our customers both new and old for taking the time to visit our booth in San Francisco at the Photonics West show. After a record attendance, we had a great time helping customers with their applications and presenting our new products. In this issue of our newsletter we present new offerings that we have, news on our existing product range and the latest company news.
Frankfurt Laser Company
---
Wide Operating Temperature 532nm DPSS Laser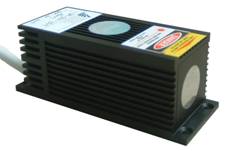 Frankfurt Laser Company offers the next generation 532nm DPSS laser. Being the first company to bring the green laser to the commercial market we have kept at the forefront of this exciting technology. With an extremely wide operating temperature range -40 to +50°C, this enables the laser to be taken to new extremes. With a small form factor and optional TTL to 5kHz this new laser is an exciting enhancement to the Frankfurt Laser Company range. This wide operating temperature range makes this ideal for outdoor applications especially in the military field.
Discontinuation of Red and IR Sanyo Laser Diodes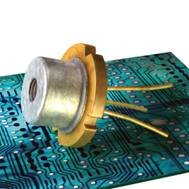 Due to the discontinuation of Red and IR Sanyo Laser diodes we will no longer be able to offer these products, however we at Frankfurt Laser Company have a recommended replacement list on the front of our homepage. For easy navigation the list has direct links to the recommended replacement for our customers convenience. If you have any questions, please send us an email at sales[at]frlaserco.de
New Line-up of Low Cost 532nm Green Modules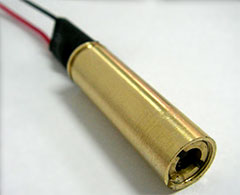 FCGMFrankfurt Laser Company offers a new line of low cost DPSS modules. We are offering a complete range to suit even the most demanding customer requirements. The range features modules with output from 1-100mW in, point, focusable point or line form. For particularly demanding applications we offer a 5mW version with a wide operating temperature range from -5 to +50°C. For precision applications where a narrow bore sight is needed we are able to offer either 1 or 5mW modules with a bore sight <5mrad. For detailed datasheets please click here
Applications:
| | |
| --- | --- |
| » Positioning | » Metrology |
| » Pointing | » Quality control |
| » Alignment | » Machine vision |
Mid-IR Diodes
As part of the continual update and improvements to our website, we are pleased to confirm that registered users will be able to download comprehensive datasheets for our offering of Mid-IR Light Emitting Diodes. The range offers a full line-up from 1.58µm to 4.45µm.
---
Company News
New office in San Jose, California
For 15 years our company has proudly served the laser community in Europe and worldwide through its network of international sales representatives. Now, due to increasing demand FLC has opened another office in San Jose, California, to provide dedicated sales support to our American partners. FLC has appointed Kevin Wells as Sales Manager to coordinate our efforts in the USA and to assist our customers in choosing the right product for their requirements.
| | |
| --- | --- |
| | |
| Sales Manager Kevin Wells | Outside our office the Fountain of Youth |
Highlights of Kevin's career include the achievements
Working with Blue Sky Research a company involved in the design and manufacture of micro-optics, which change an astigmatic beam into a Gaussian, circular and diffraction limited beam. During this time he was involved in the telecoms market, providing products to companies such as JDSU, Lucent to name but a few.
The establishment of Ayase, a Japanese company expanding into the American market. As part of this, Kevin was instrumental in the initial marketing and selling of Arima Opto Corporations laser diodes into the American market. During this time he was also heavily involved in the patent research and has trade-marked the name 'APC Laser Diode™' on behalf of Arima.
Working as a consultant for OpNext, Kevin was able to use his market knowledge to develop the product line-up and create long lasting relationships with new customers.
After this Kevin joined the Surefire R&D team and was tasked in developing laser light sources (both visible and IR) for crew served weapons.
During his career Kevin has become well acquainted with ITAR regulations and as such held the responsibility of DSP-5 license preparation and application.
---
Interview with International Economy
General Manager Dr. Vsevolod Mazo in his interview with International Economy News magazine talks about the company development over the past 15 years and its activity in the laser market.
« back «

An den 30 Morgen 13
D-61381 Friedrichsdorf
Germany

E sales@frlaserco.com
T +49 (0) 6172 27978-0
F +49 (0) 6172 27978-10

Legal
· All rights reserved ·
Attribution, Credits and Copyrights
generated by
MATRIX-CMS