Exhibitions & Events
24.06.2019
27.06.2019
Hall B2, Booth #401
FLIR-100-A IR
Laser Diode Module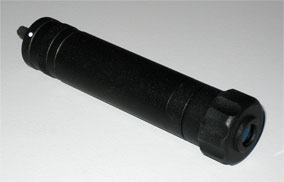 The FLIR-100-A is designed for field of view illumination and target designation when using night vision devices and night sights under low illumination conditions and complete darkness. Max optical output power is 100mW (factory set to a fixed value between 5mW to 100mW). Laser beam divergence is being adjusted within wide range with fixed intermediate values. Illumination spot size at a distance of 100m is 8m at the maximum beam divergence, at minimum beam divergence beam spot size is less than 100mm which enables to use FLIR-100-A as laser sight and illuminator.
Small size and rugged shock-resistant design enable to mount the FLIR-100-A on small arms. Air-tight, dust- and moist-proof design allows using the device under any atmospheric conditions within wide temperature range.
Applications:

General Features:

Target designation
Pointing

Plug and Play system
User adjustable focus
ESD Protection
Reverse polarity protection
No technical laser experience is required

High Radiation Power
Long Operation Range
Adjustable Size of Illumination Spot
Tightness and Shock Resistance
Easy Operation and Service
Laser Diode
Wavelength Range
800 to 860 nm
Operating Temp.
-40 to 60 °C
Downloads

79 KB

back

An den 30 Morgen 13
D-61381 Friedrichsdorf
Germany

E sales@frlaserco.com
T +49 (0) 6172 27978-0
F +49 (0) 6172 27978-10

Legal
· All rights reserved ·
Attribution, Credits and Copyrights
generated by
MATRIX-CMS