Exhibitions & Events
24.06.2019
27.06.2019
Hall B2, Booth #401
Ultra Violet Laser Diodes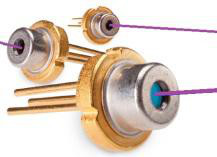 FLC offers UV and Violet laser diodes from 370nm to 420nm.
Please contact Frankfurt Laser Company for more details.
For technical information & quotations please » email us

Search by Tags
Manufacturer
Ushio
Mitsubishi
Panasonic
FLC
RPMC
Eblana Photonics
Osram
Necsel
SemiNex
Laser Type
Laser Diode
Laser Diode Arrays
Wavelength Stabilized Laser Diodes
Fiber-Coupled Laser Diodes
High Power Fiber LD Modules
Laser Diode Modules
Specify your Search

Model
Wavelength
Power
Operating Temp.
Package
375nm
0.07W
10 to 40°C
TO-56
375nm
0.2W
20 to 30°C
TO-56
395nm
0.02W
10 to 55°C
TO-56
395nm
0.12W
-10 to 30°C
TO-56
/en/ajax/productFilterResult/~cid.141~did.1~nm.14~nc.58/dc171bace9dd4ca179b3892c30aee700.html


An den 30 Morgen 13
D-61381 Friedrichsdorf
Germany

E sales@frlaserco.com
T +49 (0) 6172 27978-0
F +49 (0) 6172 27978-10

Legal
· All rights reserved ·
Attribution, Credits and Copyrights
generated by
MATRIX-CMS