Exhibitions & Events
24.06.2019
27.06.2019
Hall B2, Booth #401
HQML3 Askion
Laser Diode Module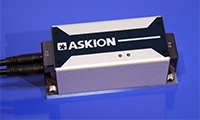 The new HQML3 module offers higher output power (up to 300mW) and provides user-adjustable power as well as analog output signals for power, temperature and operation time.
The modules offer elliptic and circular beam shape combined with low beam divergence, ultra-stable power output (<0.5%) over a wide temperature band (0°C to +50°C) and exceptional pointing stability and alignment.
HQML3 modules are available with the optical output in Blue, Green and Red wavelength range (408nm - 685nm).
Applications:

General Features:

Display
Fluorescence
High-resolution printing
Interferometry
Machine vision
Medical procedures
Metrology
Microscopy
Spectroscopy

Plug and Play system
Available with blue green and red output
No technical laser experience is required

Specify your Search

Nothing found
Sorry, there have been no results to your query.
/en/ajax/productFilterResult/~cid.245~did.1~nm.14~nc.85/629c0d2f12b39dcbcef7670742a8601f.html


An den 30 Morgen 13
D-61381 Friedrichsdorf
Germany

E sales@frlaserco.com
T +49 (0) 6172 27978-0
F +49 (0) 6172 27978-10

Legal
· All rights reserved ·
Attribution, Credits and Copyrights
generated by
MATRIX-CMS