Exhibitions & Events
30.01.2018
01.02.2018
South Hall - Booth #2107
F-05TL
IR Laser Diode Module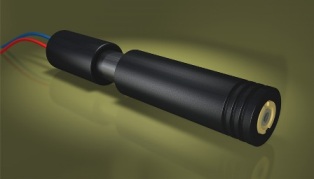 The F-05TL is designed for field of view illumination and target designation when using night vision devices and night sights under low illumination conditions and complete darkness. Illumination spot size can be adjusted by smooth lens refocusing provided by telescopic design of F-05TL. At minimal beam divergence position it can be used as a laser pointer (laser spot size is 100mm at a distance of 100m). Two colour wires are used for connecting IR-searchlight to power source. The laser module can be supplied with built-in potentiometer for output power adjustment and/or with wires for connection of remote potentiometer.
Applications:

General Features:

Target designation
Pointing

Plug and Play system
User adjustable focus
ESD Protection
Reverse polarity protection
No technical laser experience is required

Miniature size and small weight
IR searchlight & laser pointer together
Varied size of target illumination
Easy servicing
Laser Diode
Operating Temp.
-40 to 50 °C
Downloads

106 KB

back

An den 30 Morgen 13
D-61381 Friedrichsdorf
Germany

E sales@frlaserco.com
T +49 (0) 6172 27978-0
F +49 (0) 6172 27978-10

Legal
· All rights reserved ·
Attribution, Credits and Copyrights
generated by
MATRIX-CMS